Centuries ago, Terra, the world, was nearly destroyed by humans. In the wake of that destruction, Terra created the Guardians—a group sworn to protect Her. But humans have returned to their plundering ways and Terra needs the Guardians. The Guardians are now fractured, their leader murdered years before. They need a new leader—a new Terra Protectorum—but when a young girl is chosen, outrage ensues. Questions demand answers. Why has Terra selected a girl with no knowledge of the Guardians? Why has she chosen a human when it is the humans destroying the earth? And most importantly, why has she chosen the girl whose father murdered the last Terra Protectorum?
To pre-order a copy of the novel, please visit: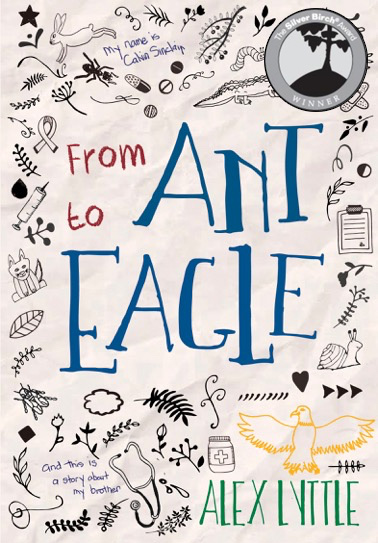 My name is Calvin Sinclair, I'm eleven years old and I have a confession… I killed my brother.
It's the summer before grade six and Calvin Sinclair is bored to tears. He's recently moved from a big city to a small town and there's nothing to do. It's hot, he has no friends and the only kid around is his six-year-old brother, Sammy, who can barely throw a basketball as high as the hoop. So Cal occupies his time by getting his brother to do almost anything: from collecting ants to doing Calvin's chores. And Sammy is all too eager – as long as it means getting a "Level" and moving one step closer to his brother's Eagle status.
When Calvin meets Aleta Alvarado, a new girl who shares his love for Goosebumps books and adventure, Sammy is pushed aside. Cal feels guilty but not enough to change. At least not until a diagnosis makes things at home start falling apart and he's left wondering whether Sammy will ever complete his own journey…
From Ant to Eagle.
Awards
THE 2018 SILVER BIRCH AWARD® FICTION WINNER
2017 FOREWORD INDIES AWARD FINALIST FOR JUVENILE FICTION – Winners announced June 15, 2018
ALBERTA'S WRITER GUILD – R. ROSS ANNETT AWARD FOR CHILDREN'S LITERATURE – SHORTLIST
For more information about my book please visit my Goodreads page HERE.
To pre-order a copy of the novel, please visit:
Praise for FROM ANT TO EAGLE
"From Ant to Eagle is absolutely terrific. I was very moved and many elements of the story—the cancer crumble, beliefs about life and death, the nature of palliative care, the role of nurses, physicians, and the patients themselves in the oncology wheel—were not only riveting but informative." — Paulette Bourgeois, Author
"I was prepared for From Ant to Eagle to be a 'sad' book, but to describe this book with just one emotion would be doing this extraordinary debut author a disservice. This is a book about fear, joy, frustration, acceptance, forgiveness, anger and, above all, love. This is a story of emotional truth that is sure to captivate readers of all ages." — Ashley Spires, Bestselling author and illustrator of The Most Magnificent Thing
"In a clear, compelling voice, Calvin Sinclair tells the story of his quirky little brother's fight with cancer and the tremors that shake his whole family. Avoiding sentimentality or easy answers, From Ant to Eagle explores the complex emotions of a family on the verge of "the cancer crumble" with stark honesty and warm compassion." — Beth Cooley, Author of Ostrich Eye and Shelter
"From Ant to Eagle is a wonderful conflation of heart, intelligence, and seriously skilful storytelling." — Andrew Norriss, Author of Friends for Life and Jessica's Ghost
"A poignant story about love, loss, family and friendships, that will tug at your heartstrings long after you close the book." — Darlene Foster, Author of the Amanda Travels series
"Lyttle's voice for Cal is appealingly direct and articulate… and his account of his struggle to cope will appeal to readers. Tender, direct, and honest." – Kirkus Review
"Lyttle delicately tackles the subjects of grief and death, trusting middle-grade readers with a sophisticated story that includes notes of humor. A moving and ultimately hopeful book" – Booklist, American Library Association