Here's an allergy question I get asked on a near daily basis:
QUESTION:
"My child (usually less than 2 years old… often with a history of eczema) develops a rash around his/her mouth with strawberries. Is he/she allergic?" (Note: you can substitute strawberry with several other foods… see list below…)
ANSWER:
"Not likely."
EXPLANATION:
Most of the time when children develop a rash around their mouth with strawberries and other fresh fruits / berries, this is an irritation reaction, not an allergy. (Note: Kiwi is the exception here… it more frequently is associated with anaphylactic reactions). In other words, these foods are irritating the skin, but are not triggering the immune system to attack the food (ie. an allergic reaction). The importance of making this distinction is that irritation reactions are not life threatening. The reason this rash occurs is likely due to the acidity of these foods. The rash is typically red and flat (ie. you CAN'T feel it when you rub your hand over it) and will last several minutes to hours. Occasionally, the irritation can worsen your child's eczema (eczema is a red, dry rash) which can last days to weeks without treatment. The rash is not itchy and the most important feature is: IT IS NOT ASSOCIATED WITH OTHER SYMPTOMS OF ANAPHYLAXIS (ie. swelling of the lips, trouble breathing, vomiting, irritability or lethargy). In other words, the rash does not bother the child.
Here is an example of the rash. This is my 1-year-old daughter. She has mild eczema and had just eaten strawberries. There was no rash prior.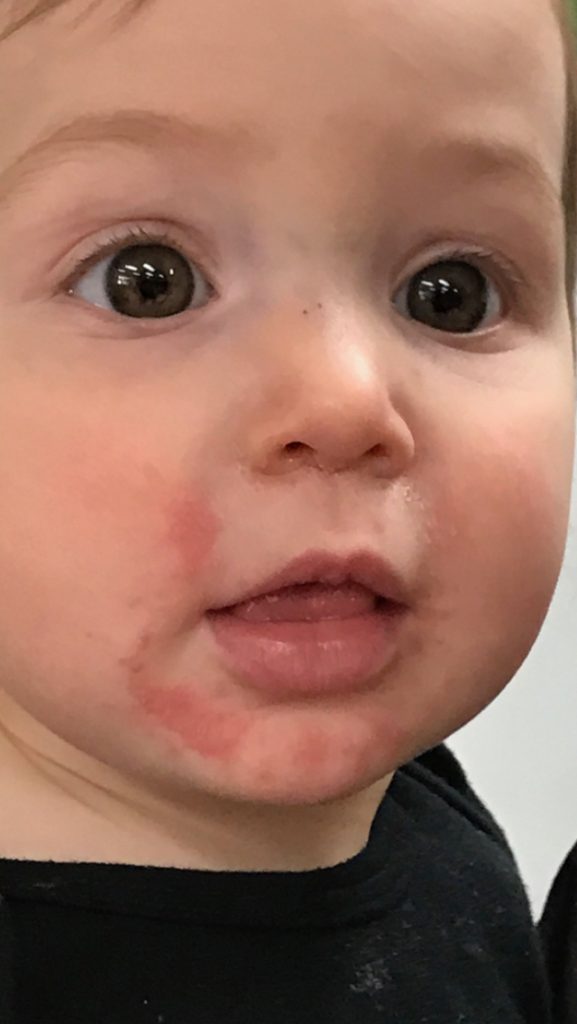 This irritation rash occurs because children have thin, sensitive skin. As they get older, the skin gets thicker and less sensitive, and the rash no longer occurs. Occasionally you will see this rash over the chest and hands (ie. the places where the foods has come in contact). Other common foods that cause skin irritation include:
Tomatoes or tomato-based products (ie. ketchup, tomato sauce, spaghetti sauce)
Blueberries
Citrus fruits – oranges, lemons, limes
Watermelon
Pineapple
WHEN TO BE EVALUATED BY AN ALLERGIST?
IF THE RASH IS ELEVATED (ie. hives) OR IS ASSOCIATED WITH ANY OTHER SYMPTOMS OF ANAPHYLAXIS (ie. Trouble breathing, vomiting, irritability, lethargy, lip or facial swelling)
IF THE RASH OCCURS IN AREAS WHERE THE FOOD HAS NOT COME IN CONTACT (ie. the back, legs, etc.)
IF THE FOOD IS NOT A FRUIT OR BERRY – If your child is developing a rash around their mouth with eggs, milk, wheat, soy, peanuts, tree nuts (ie. almonds, cashew, pistachio, hazelnut, walnut, pecan, macadamia nut), sesame seeds, fish or shellfish – they should be seen by an allergist. Similarly, if this occurs with Kiwi (the main exception to the fruit rule), they should be assessed. These foods are common triggers of anaphylactic reactions while most fruit and berries (except KIWI) are not.
IF YOU ARE WORRIED – I am always happy to see your child for any allergy questions – no matter how insignificant you may think they are. If you are stressed about a food, it's important to get this addressed. With new evidence suggesting avoidance of foods can predispose children to allergies, getting your concerns evaluated can potentially prevent your child from developing an allergy. This blog post is in no way meant to deter you from seeking an allergist's opinion, merely to provide information on an issue that may be easily addressed at home.
HOW CAN I PREVENT THIS FROM HAPPENING?
Apply a thick barrier ointment (ie. Vaseline) around the mouth prior to the child eating these foods.
Use a bib to prevent dribbling on the chest.
Once you have established that this is an irritant reaction – ie. When you apply vaseline as a barrier, the rash does not return – then you can simply ignore the rash. As stated above, the rash should not bother your child. If the foods are worsening your child's eczema around the mouth, then I suggest using the vaseline to help prevent this.
Hope this is helpful! Please feel free to post your comments below. Please note that I am unable to give specific advice regarding your child's allergy issues online. While I can provide general information about allergies, to have your child's specific concerns addressed, you need to speak with their physician.
— Alex